We understand that you're facing increasing pressures from every direction, and running your fleet is just part of the job, so you need to know that you have a partner who understands your needs and can bring new ideas to the table.
Our team at Waimea Engineering is the only engineering enterprise in the top of the South Island with logging industry specialist skills and heavy transport experience that credibly offers peace of mind, reassurance and confidence.
We do this through consistently exceptional advice, workmanship, and service, backed by broad experience and accreditation.
Here are a few reasons to talk to us:
Largest transport engineering manufacturer and repairer in the Nelson region
Accredited certifiers and repairers of heavy transport equipment
Repairs, refurbishments and alterations
Draw beam fabrication
Truck set ups
Custom builds
Crane truck set ups – Rear mounts, Front mounts
Or our popular swap deck option
Front of body hoists
Underbody hoists
5 axle conversions
Chassis extensions
Fertiliser and bulk product units and trailers
Our Specialisations in Heavy Transport Manufacturingport Repair & Maintenance
We manufacture a wide range of heavy transport vehicles and accessories. Here are some areas that we specialise in.

As a contractor, you will be focused on production – both in forest and off site – and so are we. Logging truck, trailer and forestry equipment engineering is our specialty – from design and manufacture to repair and modifications. More »

Waimea Engineering are the only heavy vehicle manufacturing certifiers in the Nelson Tasman region. More »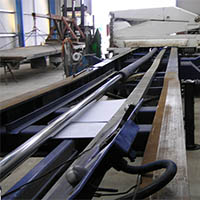 Waimea Engineering specialises in heavy vehicle chassis repair without heating, cutting or welding. More »